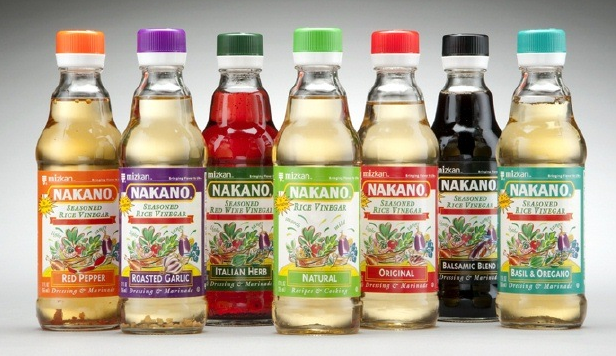 One thing I do like to do is experiment in the kitchen. I like to use different seasonings, spices and other condiments to make my own recipes and dishes that my family will ask for again. Tonight I made some yummy chicken using a Caribbean Jerk Marinade using the Nakano Seasoned Rice Vinegar.
I also made use of the George Forman Grill. Take a peek at my meat…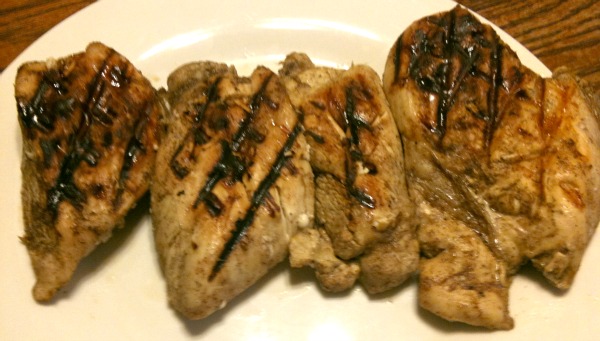 Tonight I used the Nakano Seasoned Rice Vinegar Original Flavor in my Caribbean Jerk Marinade. I also used some of the Nakano Seasoned Rice Roasted Garlic Flavor Vinegar with our green beans too!
I was really anxious to try both of the products that I received and both my dishes came out delicious. With the green beans, I cooked them using salt and butter and finished them off with a splash of the seasoned vinegar.   Since our green beans are usually pretty plain, this gave them some flavor and I will definitely be making them again this way.
I have never tried a Caribbean Jerk Marinade until tonight. I don't use packets anymore so I made my own. Checkout a simple Caribbean Jerk Marinade using the Nakano Seasoned Rice Vinegar:
Nakano Caribbean Jerk Marinade Recipe
Author:
Mom's Blog @ Mommy Enterprises
Ingredients
¼ cup Nakano Seasoned Rice Vinegar Original Flavor
2 tbsp vegetable oil
2 tbsp soy sauce
1 tbsp packed light brown sugar
2 tsp ground allspice
1 tsp ground ginger
½ tsp chili powder
¼ tsp black pepper
¼ tsp salt
⅓ tsp ground nutmeg
Instructions
Combine all ingredients in bowl.
Stir well to dissolve the brown sugar making sure there is no lumps.
Marinate in the fridge for at least 2 hours prior to cooking. For best results, marinate at least 24 hours if making marinating chicken.
 
This marinade recipe was adapted from the Nakano recipes that can be found on their website. There are also quite a few more I would like to try as well as the other seasoned vinegar flavors. Find more recipes using the Nakano Seasoned Rice Vinegar at: http://mizkan.com/recipes/.
If you are wanting to eat more healthy, take a peek at the Nakano 60-Day SPLASH IT ON, STEP IT UP CHALLENGE on Facebook. Starting on June 25th, Nakano is encouraging people to make healthy lifestyle choices. This challenge encourages participants to eat more vegetables and also to be more active. The prizes for the challenge include:
First prize of a one-year free gym membership. If over 1 million steps are reached over the course of the 60 days, a second 1st prize will be awarded.
Second prize winner receives six personal training sessions.
Third prize winner will receive a Nakano workout bag.
For more information on Nakano and this challenge, visit: http://www.facebook.com/NakanoSplash
"I wrote this review while participating in a campaign by Mom Central Consulting on behalf of Nakano and received a product sample to facilitate my review and a promotional item to thank me for participating."
734 Flares
Tweet
Email to a friend
734 Flares
×