I happen to be one of those lucky moms with 3 beautiful daughters. Of those three, I have a teen and a tween and one that will be 8 next month and on her way to be a tween before I know it. I have recently became a U By Kotex Mom Ambassador too and I am PROUD!
My poor husband! Of the 4 females in the house, 3 of us have our lovely period each month.  Before our daughters started our period, they were prepared and knew what to expect. We are one of those families that keep it real with our children and don't try to sugar coat things that don't need to be. For me, I would rather then be prepared then to not be prepared. I started my period in 7th grade during PE. Luckily I knew what to expect and had always thought I wanted to make sure that my kids were prepared in case they were to start their period at school like I did.
Take a peek at Aimee Teegarden's Gets Real Video for Kotex.
I just LOVE this video because Aimee is so supportive of  her mom being straight forward with her about everything in life. That is how I feel when it comes to my children. Over the years the world has definitely changed and I want my kids to always be prepared, be themselves and be ready for the challenges of the world.
What I didn't know until recently is that some girls start their period as early as 8 years old. Since my youngest daughter will be turning 8 in a month, I am now thinking that maybe mom needs to sit down and have the "girl talk" with her. She is only going into the third grade, but doesn't really know too much about what a menstrual period is. I am sure she has heard of pads and tampons because of her sisters and I, but I don't think she understands what it is all about.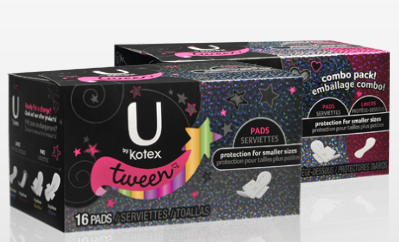 I happen to be totally EXCITED about becoming a U By Kotex Mom Ambassador. These products happen to be something that I happen to buy for my daughters and a brand that I am proud to support. Not only do they have some cool colored packaging for their pads and tampons for our tweens, Kotex has been a brand that has been around for almost 100 years.
For more information on the Kotex Tween products, visit: www.kotex.com/tween
Stay tunes for more Kotex related posts coming soon!
"I wrote this review while participating in a Brand Ambassador Campaign by Mom Central Consulting on behalf of U by Kotex Tween and received products to facilitate my post and a promotional item to thank me for taking the time to participate."