Do you have a little girl that likes to play with dolls? For me, I have 3 daughters and have bought and seen quite the variety of dolls throughout the years, including the ones that I have played with myself being a girly girl.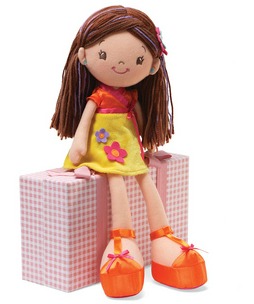 Recently I received a doll to review that is super adorable. The doll is one of the Gund Girls and her name is Sloan. There are actually 4 different Gund Girls, but I chose to review Sloan because she loves hanging out on the beach with her friends and best of all, her style is a hippie California chic. Since I was born and raised in California, I thought it would be perfect to add Sloan to our family.
Since school is out for many, the Gund Girls are great for a summertime pal, especially for road trips, daycare, camp or maybe a day at the beach. As I mentioned before, there are 4 different dolls that each come with their own personality and style.
Here are the Gund Girls:
Brooklyn – she  is a shopper
Emma – she is artsy and loves to paint
Deedee – this girl is adventurous
Sloan – the California girl that loves the beach
These cute, soft and stylish dolls are 17″ and retail for $30.00 on the Gund website. You will also find lots of other fun teddy bears and other soft toys for kids on the Gund website at: http://www.gund.com.
Disclosure – I received a product sample to provide you with this review. This post is not a paid post and the opinions stated herein are 100% my own.
28 Flares
Tweet
Email to a friend
28 Flares
×