When you have a house full of kids, it can often be difficult to keep your house and floors clean. For me, I find myself cleaning up all day, especially on the weekends when the whole family is home all day.
Last month I did something I have never done before. I had my floors cleaned professionally and I don't mean my carpet. When I bought my house back in 2006, we had tile floors installed because the carpet that was in the house had to go. What I didn't know until last month was that Stanley Steemer not only can clean your carpets, but they also have a tile and grout cleaning service too! I actually was pretty excited to find out they offered these services because my floors definitely needed a cleaning other than the basic sweeping and mopping that is done during the week.
Take a peek at this video below:
So last month I made a call to Stanley Steemer for an appointment and they were able to come the next day. Pretty fast service I would say. What I didn't do was clean the floors before they came. I had the floors nice and dirty, awaiting their arrival. Take a picture of my floor before Stanley Steemer arrived.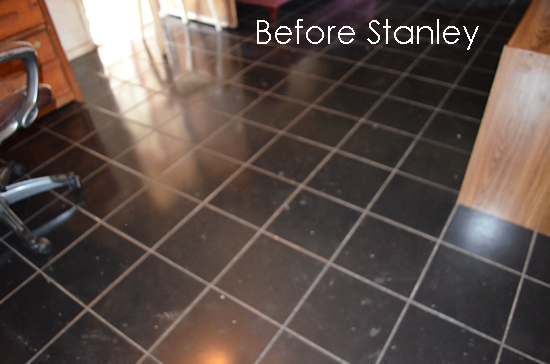 Now look at the picture I took after they were done.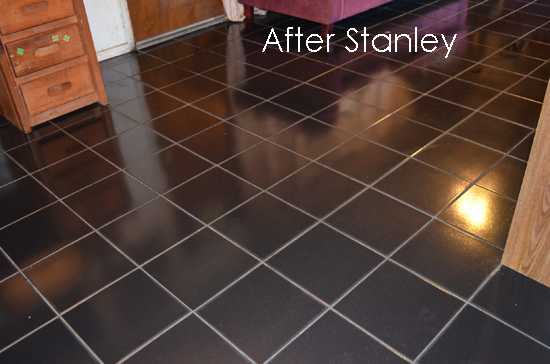 I was pretty impressed on how clean the floors looked. I normally do a quick mop job and it never comes out this sparkling clean. I am not wishing I could afford to have Stanley Steemer come out at least monthly to clean the floors to get them this clean.
Like me, many others do their best Spring cleaning, but vacuuming and cleaning machines only remove just some of the dirt, dust and particulates that can cause allergic reactions. In a recent poll commissioned by Stanley Steemer, only 19% reported ever using a professional for cleaning their floors.  To help fight the allergy season, it is recommended that you should consider a deeper cleaning at least twice a year by a professional service like Stanley Steemer that can not only help clean your carpets, but also help clean your hardwood, tile, air ducts, water damage restoration and more. Stanley Steemer's equipment and cleaning processes have helped to remove more than 98% of dry soil from their customer's floors!
Find out more info at: www. StanleySteemer. com or make an appointment by calling 1-800-STEEMER.
I have been given the opportunity to give one of my LUCKY readers a chance to win a $100 Gift Certificate to Stanley Steemer to try their services too! To enter my Stanley Steemer $100 Gift Certificate Giveaway, use the Rafflecopter below:
"Disclosure: The gift certificate, information, and additional gift pack have been provided by Stanley Steemer through MyBlogSpark."
122 Flares
Tweet
Email to a friend
122 Flares
×