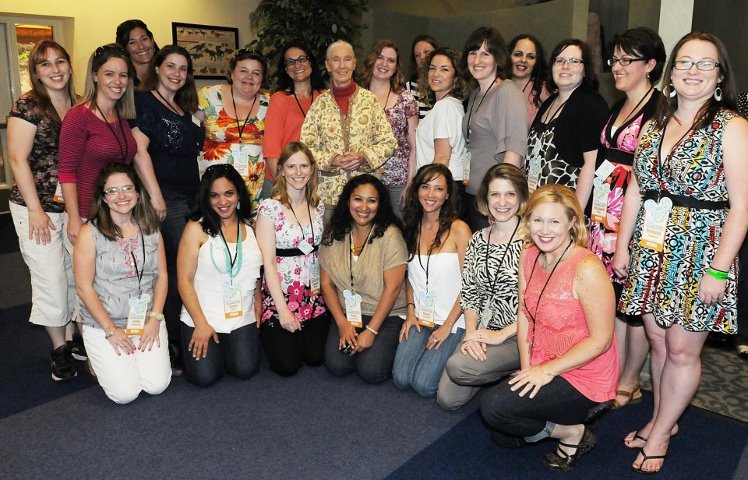 Yesterday I shared our interview with the McClain Sisters which was amazing and went by too fast. Not only did we have a chance to ask these sisters questions, we also got to interview some other amazing people that include Dr Jane Goodall herself as well as two of the producers for Chimpanzee, Alastair Fothergill & Mark Linfield.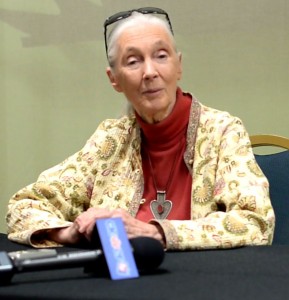 Although I had already seen Jane Goodall on stage earlier that day, I was still excited at our opportunity to be in the same room with her.  Since Jane Goodall has inspired so many lives, I will say that I was excited to get to take a group picture with her. This is a picture that I will be framing so I can hang it on my wall so I can brag to my family and friends.
While I enjoyed all of the interviews that day, I really enjoyed Jane's responses to our questions and keep thinking about things that she said. This lady is full of knowledge and our whole group I am sure wishes we would have been able to ask her more questions. Here are a couple of Jane Goodall's responses that I want to share.
Question: You want to tell about the conservation program, Jane, the first week?
Jane Goodall: Yes. Everybody who goes to see this film in its first week, the Jane Goodall Institute gets a percentage to the ticket sales, and all of that money is going to actually help us look after our little Oscars. We put a sanctuary with over 150 orphan chimps whose mothers were killed in the bush meat trade. And it's very expensive, looking after them, and right now we're struggling to get the funds to prepare the big island in the middle of the river.
Question: I think the average person doesn't feel that they are capable of making big change, so what do you think the — if there is one thing that we can tell the average person to do to change to help a cause like this, what would you suggest?
Jane Goodall: Well, the most important thing — I mean, I could say, please join JGI. And I do say that. But that's not the message. The message is: just spend a little bit of time each day thinking about the consequences of the choices you make. What you buy. Where did it come from? How was it made? What do you eat? Does it involve cruelty to animals? What do you wear that does involve child-slave labor or sweat shops? How many miles has it traveled. How was the environment damaged?
These are just a few of Jane's wise words that were said during the interview. Being a fan, I have already read over the interview questions a few times. I would love some of the Jane Goodall's motivation to rub off on me.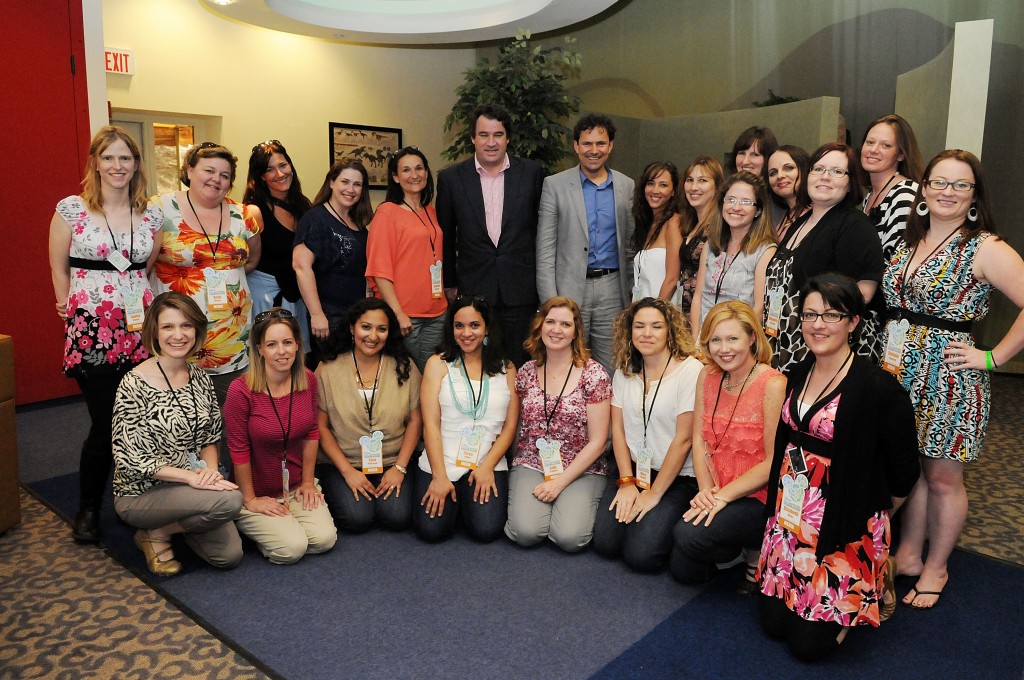 Our next interview was with Disneynature's Chimpanzee producers Alastair Fothergill and Mark Linfield. Another interview that I wish would have lasted longer.
After the interview and reading more about these two men, I have decided if I ever got lost in a jungle somewhere, I would want these two around to help me survive. These guys are just two of the team members that were involved in the success of the film Chimpanzee. These two guys spent over 3 years in the Tai forest keeping track of the chimpanzees, capturing amazing footage.
Here are a few responses from their interview that I want to share, especially to those that have seen it and might want to know.
Question: Actually how many hours of film were there?
Alastair Fothergill: I mean, literally, thousands of hours. And because the big difference between a narrative — a movie — and a documentary is if you're making a documentary on chimps, it doesn't really matter who hunts the monkey, as long as you show people hunting the monkey.
Question: When Isha met her fate, were you guys present — or –? You just don't know what happened to her?
Alastair Fothergill: We — we don't know what happened to her. We, um, are pretty certain she was killed by leopards. Because there are pretty high density of leopards in the forest there. And she would have got separated from the group, and, you know. We don't know. We never found the body. We just suddenly realized that we had no Isha, and a very sad little guy calling out for his mom.
Question: Was Freddy actually Oscar's father? Or do we not know?
Mark Linfield: We know. We know that he isn't.
To take a peek at other pictures taken during these interviews, please watch my slideshow below.

See Chimpanzee, Save Chimpanzees! Until April 26, a portion of each ticket purchased will be donated to the Jane Goodall Institute to help SAVE CHIMPS!
Disclosure – I received an invitation to take a trip to Florida for the Red Carpet Premiere of Chimpanzee as a guest of Disney and Global Resort Homes. This post is not a paid post and the opinions stated herein are 100% my own.
810 Flares
Tweet
Email to a friend
810 Flares
×